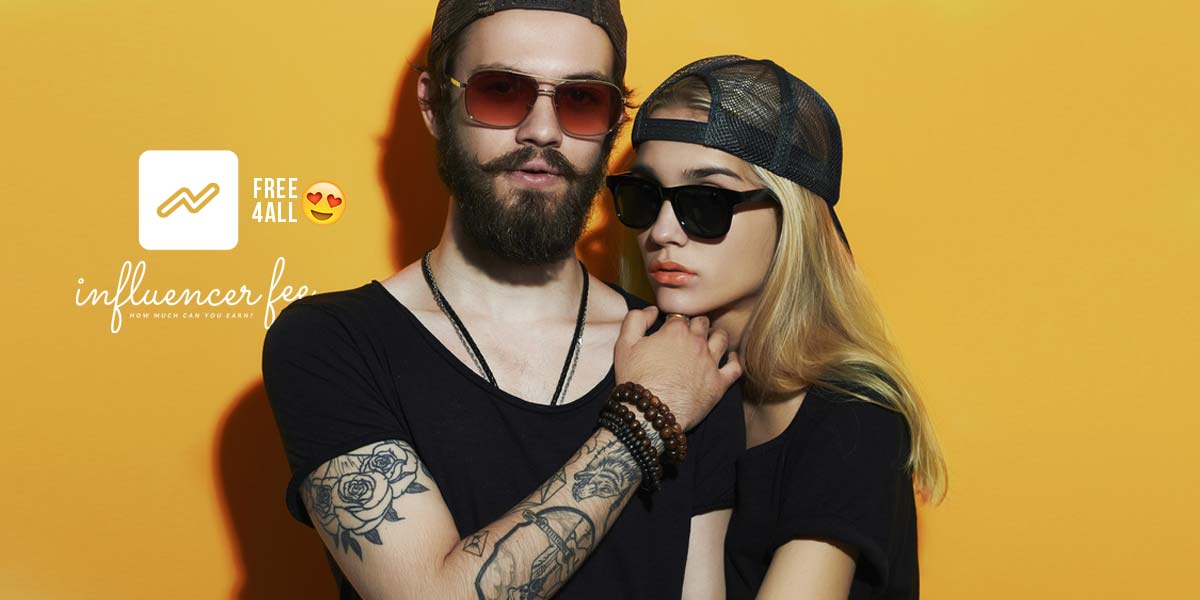 Free Influencer Price Calculator: What's Your Instagram Channel Worth?
The most successful Instagram stars today earn many thousands of euros with their posts. No matter if it's a story or a single picture, with every single post Instagram stars earn more than they earn in a month. But it's not just the absolute top stars, but also smaller channels. Even with a few thousand fans, you can make a lot of money on your Instagram channel with a little skill.
Influencer Price Calculator: Calculate Instagram Posting Prices
Today we discovered a new free online tool that anyone can use to calculate the value of their Instagram channel for themselves! Free of charge and within seconds. The Influencer Price Calculator looks not only at the fans, but also at the likes, the comments under the individual posts and the overall engagement rate. Especially the engagement rate is very important for many of your customers, it shows how active the interactions of your fans are.
Why is the engagement rate important?
In its simplest form, engagement rate is calculated like this (for a post): followers / (likes + comments).
If an Instagramer with 100,000 fans has an engagement rate of 5%, then 5,000 people will actively give a like or comment.
If an Instagramer with 10,000 fans has an engagement rate of 12%, that reaches 1,200 people.
Although the first Influencer has significantly more fans overall, the smaller Influencer brings realtively seen, more people to engage with the image (and the brand). Ultimately, you can say that he or she "inspires" more people in purely percentage terms. If a company books an influencer for an upcoming advertising campaign, it will build its portfolio accordingly, effectively reaching as many people as possible. This way, reach is spread out to "smaller" infleuncers. Instead of a large distribution list, one will then rely on many small ones for more interaction of fans and followers. This way, you have gained effectiveness as a company for your brand or product.
Advertising has long since discovered influencer marketing for itself
Many large and international companies have discovered influencer marketing for themselves. Influencer marketing is of course not only on Instagram, there are also many influencers on YouTube and Facebook. Youtubers take the biggest prizes or earn the most. For a single YouTube video, the prices are quickly five to ten times as high as find why is that so?
FragranceTip.com by FIV
Influencer Marketing on YouTube
With influencer marketing on YouTube, companies not only have the advantage of reaching many people, who in turn interact with the video and thus also engage with the product. YouTube "lasts" much longer than Instagram posts or Insta Stories. That's why Youtubers are worth much merh and many book a single YouTube video instead of reach on Instagram, because it is retrievable for a very long time. If the blogger himself does not delete it even forever. Many know it when they search for a video in YouTube. Here, the search results still show videos that have been on YouTube for five or six years. Even before the new videos. Because, they are liked clicked videos and people like their content, so YouTube still considers them relevant today. When a brand has clever placements in such a video, it gets an extremely high long term effect. Also from SEO point of view (search engine optimization). This is exactly what Youtuber scores in negotiation talks with clients. On Instagram, the holding period is just 48 hours and on Stories, it's just 24 hours. It's the same with Snapchat, information is only available for a short time and that makes these social media channels less interesting for potential customers in relation to long-term campaigns. For campaigns with impact or other concepts, on the other hand, the criteria of Instagram and Snapchat are more appropriate.
Book packages: Win-win for customers and influencers
For customers but also for the bloggers themselves it is worthwhile to agree on packages. In packages you have an absolute win-win situation, the influencer gets more money for a job and the customer has more of his placement, because the name mention or the placement of the product is more frequent. Just like in classic advertising, back in the day on TV or even today on YouTube, it's all about getting your name mentioned or heard as often as possible. You all know a very classic example! What do you ask for when your nose is running when it's fall again? The answer is most likely a "tempo". The more often a name is mentioned, the more likely it is to become ingrained in your mind. This is exactly why you are valuable to businesses as influencers. You need to price your Instagram accordingly.
Instagram still has a lot to offer the!
On Instagram, you can also earn good money as an influencer and blogger with your channel, if you are clever and also show some negotiating skills. On the one hand, if you want to become a blogger, you should of course enjoy the topic and post for yourself first – not necessarily "for the others". If you want to become an influencer just to be an influencer, you will have a very hard time and may not make it at all. Bloggers enjoy what they do, they like to share, they like to produce videos and they prefer to be active in the media world. Maybe in the past they would have become film producers or writers, editors or worked in an advertising agency. Today they are bloggers and with enough reach they rise to become influencers.
Influencer classification and categorization: PAM factor
The classification of influencers can be done, for example, using the PAM factor. It classifies influencers based on their total reach and also gives students and universities the opportunity to make a precise categorization, for example for Bachelorareiten in studies. In this infographic you can see the division of influencers into groups: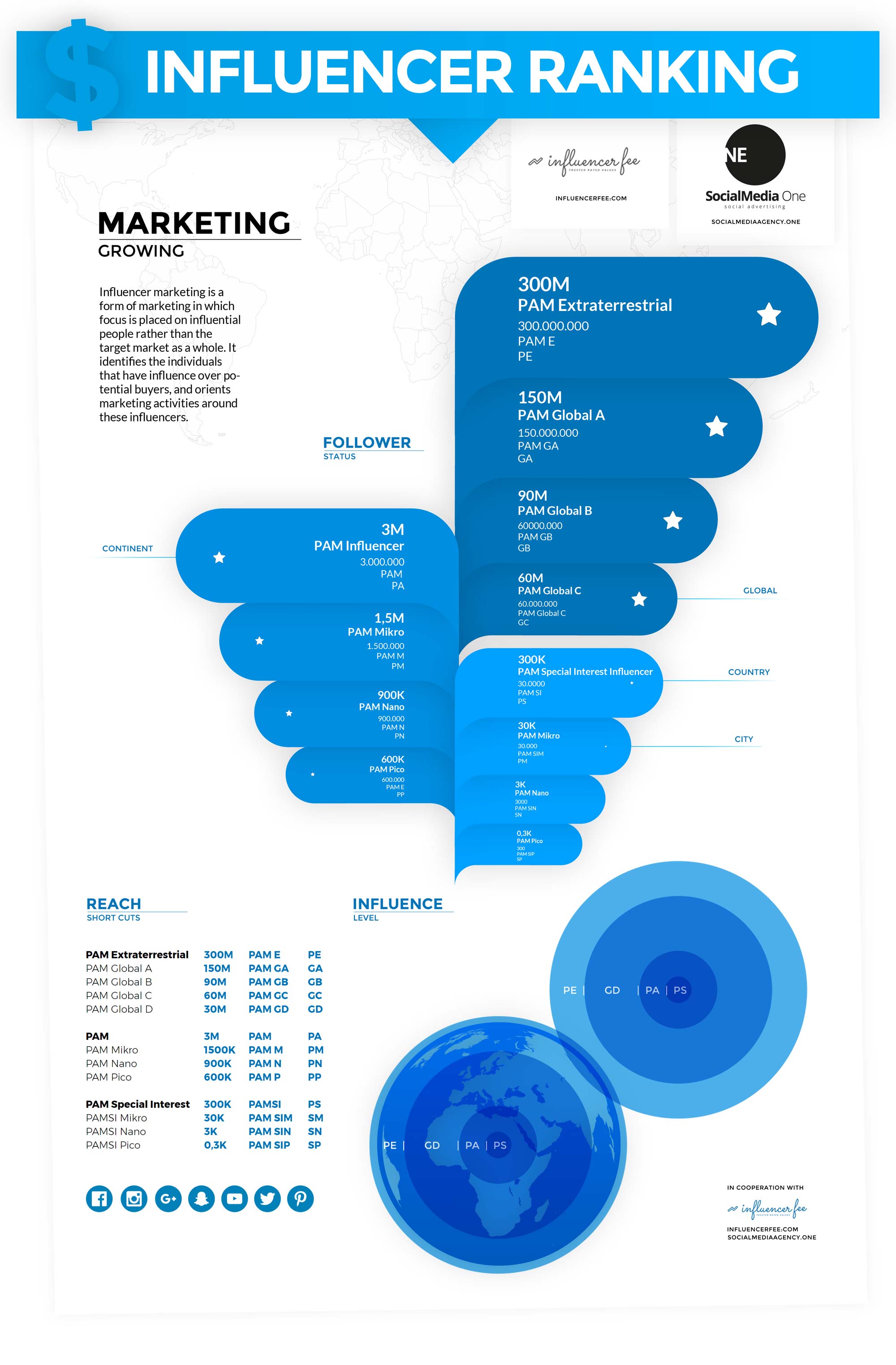 Infographic from socialmediaone.de
The influencer market is hotly contested!
The older a social network gets, the harder it is to move up. Social networks naturally become more "crowded" as the weeks, months, and years go by. More and more people sign up. Friends follow friends and in turn friends follow friends and their friends. At some point, a social network is overrun with people and, of course, bloggers. Increasingly, it becomes harder to build a large reach. While you still have a relatively good chance in the beginning, it gets harder and harder. If you look at one of the oldest networks like Facebook, there are not only normal people, but also hundreds of thousands of companies, plus various groups, project pages, fan pages and much more.
On younger networks like Snapchat one does oneself against it rather still private people, while on Instagram also already again very many enterprises romp. These in turn create new pages and bloggers also create more pages for their dogs, as couples, for their brands and so on. More pages are constantly being created and each one becomes less relevant.
If one looks at still new projects the musical.ly, are here still absolute million numbers attainable, even if one is still a new Blogger and perhaps only once 13 or 14 years old. This makes musical.ly e.b. also very interesting for the coming years and for the trends and social media marketing. Not only with influencers, but also with agencies that advertise for clients. New markets always promise risk but also good profits.
Negotiating skills will get you higher prices for your postings
The better you can estimate your own market value, the better you can sell yourself. That's why the Influencer Calculator helps you, because it summarizes the different statistics and gives you a realistic price estimate for your Instagram channel – free of charge, every time. Of course, you can also print the various statistics and evaluations, e.g. directly into a PDF. This gives you a direct basis for an offer to your customer and your proposed prices do not seem so out of the "free sky". Customers always want to see why they have to pay something, so you can directly prove and say look, a single one of my posts just gets an average of x likes! My engagement rate is 10%, so in all likelihood I get X likes and X comments on the package. So you can convince a customer and also raise your own rates a little bit at a time. So that you can live better and better from your own Instagram channel!
With these tips and the practical price calculator you have everything at hand to work even more professionally!
A guest article by Stephan M. Czaja, Social Media Agency.
https://fivmagazine.de/wp-content/uploads/2017/10/influencer-preisrechner-kostenlos-instagram-wert-preis-kosten-berechnen-agentur.jpg
600
1200
Stephan
/wp-content/uploads/2023/08/fiv-magazine-logo-news-influencer-fashion-interior-travel-real-esates.svg
Stephan
2017-10-20 21:16:50
2021-07-17 17:25:55
Free Influencer Price Calculator: What's Your Instagram Channel Worth?