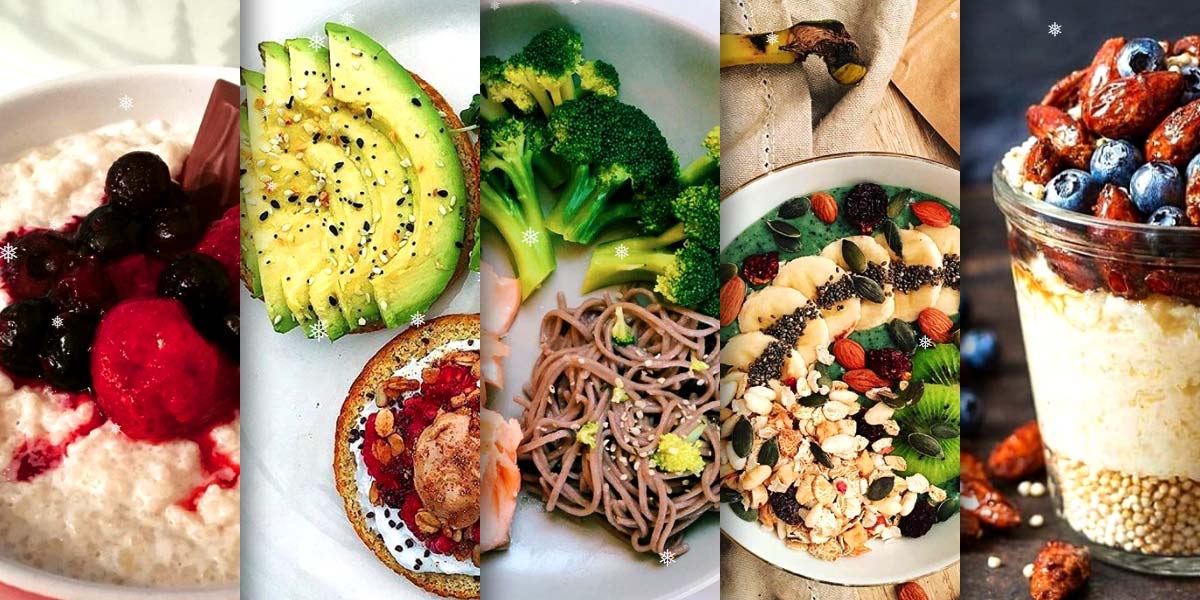 5 leckere Ernährungstrends: Paleo, Clean Eating, Vegan, Detox & Low Carb
2018 kommt immer näher, genauso wie unsere guten Jahresvorsätze! Wir nehmen uns vor draußen mehr Sport zu machen oder auch einfach mehr ins Fitnessstudio zu gehen. Dabei gibt es so viele Food Trends! Bevor wir also in den nächsten Tagen wieder fleißig ins Fitnessstudio gehen, wollten wir noch einen Rückblick auf das Jahr und die Trends auf Instagram werfen. Hier sind unsere 5 leckeren Ernährungstrends: Paleo, Clean Eating, Vegan, Detox & Low Carb.
Paleo – Essen aus der Steinzeit
Picnik Austin
Germany - Spain - USA
real food + good vibes
More about @picnikaustin
Brittni
Los Angeles, CA
✨Wife/Mama/vegan
‍♀ Pop Physique instructor
Nutrition/dietetic student
brittniamber315@gmail.com
More about @bwhitesides
Sarah | Sculpted Pilates
Mom to 3
Pilates Mat & Reformer instructor
Plant based recipes
✉ sculptedpilates@gmail.com
More about @sculptedpilates
MALK ORGANICS
Snap a of MALK at your local store, use #MALKme, and we'll hook you up with a coupon!
More about @malkorganics
Mikey's
Simple and nutritious baked goods! All of our products are Certified Paleo, containing no gluten, grain, soy or dairy!
More about @mikeys
Kellie Foster
Toronto
Carbless adventures in food and fitness
-100 lbs and maintaining
Keto since 08/2015
Recovered binge eater
Chemical Engineer
More about @kellie_keto
Jilz Crackerz
DELICIOUS Simple Seeded Cracker • No Grain, Gluten, Soy, or Corn • Organic • Paleo • Vegan • #plantbased #jilzglutenfree
More about @jilzcrackerz
Roberto www.chefbosquet.com
‍FoodBloggertriathlete‍firemanVila-real( Valencia) #healthyfoodporn
More about @chefbosquet
Paleoish
Dave | Foodie | Homecook | lover | Paleo with the occasional
On a mission to help people to stop overthinking it and find your own balance!
More about @mypaleoishlife
Christina Rice | Health Coach
Holistic Health Coach / Future NTP
Podcasts: Actually Adultish | Straight Up Paleo
#NoSugarNoProblems: Sweetener-Free Desserts
Paleo Women Program
More about @addicted_to_lovely
Dairy Free • Organic
Bringing you plant-based convenient comfort foods, starting with dairy-free Cheese Style dips #InPlantsWeTrust
More about @thehoneststand
Ida| 18 | ☕
RADOŚĆ
ŻYCIE
PASJA …..
➡ i jedzenie
współpraca ➡idapk@vp.pl.
DM zawsze otwarte ❤ STAY POSITIVE
More about @idainhappyland
Tyra – Vegan Fitness Foodie
香港 18 Swiss & Malay vegan lifter ‍♀ MANA! brand ambassador ❤veganism is a rejection of violence, not of calories. VEGANISM = RESTRICTIVE?⬇
More about @lift_vegan
Rebecca Lilly
yogi. runner. health enthusiast. life enthusiast.
Orlando, FL
xxrlilly@gmail.com
More about @xxrlilly
Anaïs Da Silva
Happy Parisian vegan Yoga and Fitness addict Best Ambassadrice slowly veggie, nossa açai, youmiam my recipes in FR and UK here my first ebook
More about @anadasilv
Sharon Chen
Efficient, fun cooking w/ street-smart tips & easy recipes! Download our FREE Top 18 One-Dish Meals cookbook now.
More about @streetsmartkitchen
Balance by Molly
Holistic Nutrition + Health Coaching
‍real food recipes + smoothies
ingredients over calories
join my next Group Cleanse starting Jan. 11th!
More about @shakethatmarshmallow
Julie Smith // Keto ✌
Keto since Feb 2017
50+ lbs
⛰Utah
No tracking macros
Simple keto recipes
Helping you achieve success!
Feel free to DM me with questions
More about @ketomadesimple
Sunjay
Serial entrepreneur trying to make the world a healthier place
More about @sunjayghai
Kerolajna
nutrition & HEALTH coach| study biology & geology| research LCHF & DM2| karol@easyandhealth.com| wholefood| #zdravibezlhani| @easyandhealth
More about @_kerolajnaa_
KYLA
God first
ED soldier: #findingBOWLance
-BS Dietetics- ⛳
•give yourself permission•
: kyla@jtm.net
More about @findingbalance_14
Just A Greek Guy & His Food
Aussie Greek Guy love for food and his BBQ Happily MarriedDad to 3 beautiful children, 4 dogs, 2 cats. Love Jesus, life & family
More about @greekwoodfiredcooking
Paleo Tracks Survival
Primitive approach to survival, bushcraft and wilderness self reliance. Go to https://www.paleotrackssurvival.com/ to learn more.
More about @paleotracks
All about juli
fitness-redakteurin …in babypause17.6.17 #fitmama & fitnessverliebt
fitfood mit NU3ABOUTJULI15 ordentlich % bei nu3 sparen
More about @about_juli
Xena Lamp
Bull in a China Shop
Glute Goddess Wannabe
Professional Protein Cookie Taster
Experienced Dog Petter
Wook
#LiveFastPetDogs
More about @xenalamp
Sigrid Blanchi
French foodie, HK resident, traveller, addicted to meat and cheese lover.
Cheers…
More about @sigridblanchi
Clean Eating – Natürlich und bewusst essen
Cecilia | Mansani
‍Fit & Healthy Breakfast
‍♀Fitness & LifeStyle
cecilia@deliciousbreakfast.it
"Sogno un mondo fatto di colazioni e mezze stagioni.."
BLOG
More about @delicious.breakfast
ALEXA KISS
⠀⠀⠀⠀⠀⠀⠀FOOD-& FITNESSLIFESTYLE
⠀⠀⠀⠀⠀⠀⠀⚓Hamburg
⠀⠀⠀⠀⠀⠀⠀Foodblogger
⠀⠀⠀⠀⠀⠀⠀‍Healthy Recipes
⠀⠀⠀⠀⠀⠀⠀⛓Fitness
⠀⠀⠀⠀⠀⠀⠀socialmedia@alexakiss.com
⠀
More about @kissalexakiss
SEGATI ALEX MEN'S PHYSIQUE
IFBB PROFESSIONAL LEAGUE ATHLETE
ONLINE COACH: ptalexmp@gmail.com
ITALIAN CHAMPION '17
OLYMPIA AMATEUR
EVLS PRAGUE
OLYMPIA AMATEUR
More about @alex_ifbb_physique
Shelby Lee Jones Fitness Coach
GOD
PN1
CFL1&2
MOBILITY
OLYMPIC
ENDURANCE
STRONGMAN
GYMNASTICS
OPEX CCP
ETP NUTRITION
USAW SPC
@JONESN4CROSSFIT
More about @coach4fitness
Lyfestylestagram
______________________________
Well-Being
Health
Lifestyle ️
Love ❤
______________________________
Get posted here!
More about @lyfestyle.love
Renan Camargo
Lifestyle • ✈
‍ Jobs: contato@influencersdigital.com
More about @renancamargo_
Brae☀
19 | collegiate rower | recovery | balance
NJ –> Philadelphia
email: braeofsunshine12@gmail.com
BRING YOUR OWN SUNSHINE
More about @braeofsunshine
Ramona Votta
FOOD BLOGGER / BEAUTY DIY /BRAND AMBASSADORS Dalle mani sporche di impasto tiro fuori i miei ricordi più belli
FB : @RamonaStorieDiCucina
YouTube
More about @ramona_storiedicucina
Alexandra Lederer
24, Make Up Artist @alexandralederer
München/Dachau
❤ Iifym/Flexible Dieting
Jimmy Fresh Bohnenkuchen ⬇⬇⬇
More about @lalelex
☀21, South Wales,daily posts
Healthy Meal ideas
✨Mental health awareness
‍♀weightloss➡Strength
PT in training
Missfitnutrition code:KIERA5
More about @healthylifekiera
Samuca Silva
Vivendo uma vida louca e saudável I love myself so much like wow.
samucafitlife@hotmail.com.
More about @samucafitlife
H.A.R.V.A.R.D
Thailand
Mozambican
Line: lily_Harvard
Food & Recipe Blog⬇
More about @i_harvard
Federica
Bergamasca ✌ 28 anni. I cibo sano
Passione
Food blogger
°•▪°•▪° Cacciatrice di sogni °•▪°•▪°
More about @briciole_di_toast
Nicollette Transform Fitness
Nicollette BurnsTransform Fitness owner,National Qualified Bikini Competitor, Personal Trainer, Kettlebell Instructor,Nutritionist,Boxing,model.
More about @transformfitnessnikky
Vegan – Verzicht auf tierische Produkte
Think Vegan
Vegan Food & Lifestyle Blog // www.facebook.com/thinkvegan.de // www.thinkveganblog.blogspot.com // www.instagram.com/thinkveganblog
More about @thinkveganblog
Simitbox®
2014 Yılında büyümeyi hedefleyerek kurumsallığa "Simitbox" markasını oluşturup ve tescilini yaparak daha emin adımlarla adım atmayı planladık
More about @simitbox
Rosalba
?My Italian #vegan #natural #crueltyfreefood? ??????????
?Tag #rosynaturalfood to be featured on my page?
Eaten outside & cooked at home
More about @rosy_naturalfood
Sofia Bronzato
?Medico Chirurgo
?Nutrizione clinica
?Medicina Estetica
?Arte • Scienza • Cucina
?Curiosa di natura
?Milano-Verona-Varese
✏sofia.bronzato@hotmail.it
More about @sofiabronzato
Андрей Власов??
Санкт-Петербург
?Ресторан
Русская Рюмочная N°1?
♨Stroganoff Group?
Chef?Russian Cuisine?
? Chaîne des Rôtisseur♨
More about @vlasov_andrey_
Alex Changer
✨ Coach
? Businessman
? JP Ambassador
? Fitnessfreak
? Healthy
? Meditation
? Malaysia-Business
? Vegan
? Love to travel the World
More about @alex.changer
Mia Zarlengo, MS, RD
women's health + fertility dietitian • recipe developer • chocolate lover
chicago
bitesbymia@gmail.com
More about @bitesbymi
Heart beet kitchen
plant based • organic • gluten free • dairy free
? yoga | saturdays | 9am
? sj mag best smoothie 2017
☀ be well philly best brunch for yogis 2017
More about @heartbeetnj
EszterVaczi
HUN ??| 20 | Vegan ?
More about @abaraynoriko
Mili
Paleo food lover ?? Blogger ? Crohn's fighter ♌
? Link to my blog with all the recepies & more -> in Czech but you can switch to English ? ?
?
More about @paleo_girl_in_prague
Hungrysincebirth
Ankit Pahwa
Delhi NCR
Zomato Level : 8?
DM for Invites?
A street food lover… A Glutton.. ?
Join me on my quest to seek perfection.?
More about @hungrysincebirth
Katarzyna Kopacz
?food photography ? lifestyle ? healthy life
? coffee lover ?travels ? little things
collaboration ?
? Poland ? ↔ Greece ?
More about @mirabelldream
Louyse Damázio
?Nutricionista
?Veganismo
?Pós:Bioquímica e Fisiologia da Nutrição
?Mestranda:Ciências da Saúde
✉nutrilouyse@gmail.com
?Criciúma/SC
➕ Receitas ⤵
More about @nutrilouyse
گل و بلبل ۱۳۶۰
تنها تولید کننده جلاتو(بستنی ایتالیایی)بدون رنگ و اسانس در بابل ??
فروشگاه اختصاصی قیفی
بستنی سنتی و فالوده
بابل _خ نواب صفوی
More about @gol.o.bolbol.gelato
Hana
Vegan? Berlin
More about @hana_stays_vegan
Гранола VERBA
??‍?Делаю домашнюю гранолу
?Полезно и вкусно♥Без сахара??
?Цена 450 р. за 0.5 кг
?Москва
? Доставка почтой или СДЭК по всей России
?+7 905 549 30 54
More about @granola_verba
Delhi-cious?
Welcome to the world of food?. Binge eating?????•Food blogging • Travelling •
More about @so_delhicious
Detox – Entgiftung für den Körper
Антон Привольнов
Вкусный инстаграмм Антона Привольнова
По всем вопросам privolnov.pr@yandex.ru
More about @anton_privolnov
FOUNDER of The.Karuna.Flow
Personaltrainer (Dipl. FÖ)
Yogateacher ॐ
Foodcoach
Onlinecoaching
☯Holistic Coach
WEIHNACHTSAKTION CHRISTIAN BISCHOFF
More about @the.karuna.flow
Francesca Rose • Vegan •
South Africa ✌
FB: Francesca Eats Roses
Naturally balancing hormones, healing acne & establishing my cycle Recipes & thoughts on ED Recovery
More about @francescaeatsroses
Venu Sanz-Cocina Saludable
Chef de cocina saludable basada en plantas.
Me gusta cocinar, comer y cuidarme
Cursos de Cocina Online
Visita mi web
More about @venusanzchef
Emeline
Food lover
‍♀ Sport addict
Gluten Free & Lactose Free
Paris
-15% sur NU3 : EMI15
-10% sur PANDA TEA
More about @healthy__emi
Wonderfoods
Gesundheit, Ernährung & Pflege für dich und deinen Körper!
kontakt@wonderfoods.de
#detoxyourbody
Try our Detox Edition
More about @wonderfoods.de
Joana Vegan Foodie
Berlin Food Blogger
Vegan & glutenfree
Rezepte auf meinem Blog
More about @foodreich
Low Carb – Gewicht verlieren durch wenig Kohlenhydrate
SVENJA ?
?? 29
? DBFV Bikini Athlete
? 1st Int. RLP Meisterschaft 2017
? Team OutbackGym
? svenja.l@yahoo.com
? Hier geht's zu meinen Links??
More about @svenja__l
DieFitnessKüche / Leipzig / 28
?Schnelle & Gesunde Rezepte!?
??‍♀Trainings- & Ernährungstipps??‍♀
?Produkt- & Supplemente Testberichte?
More about @stefan_fitlife_
Parastou
✨Being healthy and fit isn't a fad or a trend. Instead it's a lifestyle.
?Keto/LCHF life
More about @p_keto_lifestyle
Meleini's Kitchen ⚓ ?
?#meleiniskitchen
?info@meleiniskitchen.de
?Hulk&Harmony: 15% "melanie-15prozent" ?Oatsome: 10% "meleini.hh" ? Die Gewürznuss: 10% "meleini10"
More about @meleini.hh
Iza, 24
? Warsaw, PL
?#thefuturedietician
?#lowcarbeater
?#PCOS & #insulinresistance
.
? -15kg ? -10kg more
More about @powabna_healthylifestyle
WW + YAZIO APP
?? | 24 | 1.62 M | WEIGHT WATCHERS | KALORIENZÄHLEN | 5:2 DIÄT
START: 76,7 KG | NOW: 57,8 KG | – 18,9 KG | ? 50 – 55 KG
FOODDIARY | FITNESS | REZEPTE
More about @annika.abnehmbar
Tammy ??
Rezepte ?, Leckereien ?, Frühstücksideen ❤.
More about @treats.and.cheats
Mari?
Live every moments,
Laugh every day,
Love beyond words.
More about @veggiemari
Manual Low Carb – LCHF
? NOVO guia de dicas, ideias e receitas voltadas ao mundo Low Carb. SEMPRE uma novidade ❤
–
⬇⬇ Ebook LOWCARB para INICIANTES com CARDÁPIO
More about @manual_lowcarb
Mischa Kotlyar
Für mehr Wahrheit und Verantwortung.
✈CEO of #AskDocShow & #Zero2HeroShow
Coaching: mischakotlyar.com
⬇ Kostenloser Ernährungsplan ⬇
More about @doc.mischa
Ketogenic Recipes & Support
Angela ⬇70#WW ⬇25#Keto
?‍?Business in the front (posts)
?‍♂Party in the back (stories)
??Creator of Ketonoms.com & 3 Ingredient Thursdays #3IT ??
More about @my.ketonoms
Julita
Deutschland – NRW
Polen – Masuren
??????????
More about @ostrodzianka
Tanja
Fitness und gesunde Ernährung
26| Mama ?? | Ehefrau ❤ |Believer ??
-10% mit fitnessfoodmum10 @myfitshape
-20% mit fitness_food_mum_20 @wohltuer
More about @fitness_food_mum_
Sigrid Blanchi
French foodie?, HK resident?, traveller?, addicted to meat ????? and cheese lover?.
Cheers????…
More about @sigridblanchi
Anika
My life,
Food pics,
Mother oft two: ?(13) + ?(10)
with a wonderful ???? family
Low carb,
FAMILIE ist ALLES – das wichtigste in meinem Leben!! ?
More about @asbmausi
Nicole
Food- & Fitnessblogger
~•~•~•~•~•~•~•~•~•~•~
⏩Rezepte findet ihr unter #krümelkitchen
?mit Krümel10 -> 10% Rabatt bei Food4Champs?
??‍♀ Sportfreak
More about @kruemelpower_nicole
JeyBeAndMe
Viel unterwegs | Ska | Konzerte | Festivals | Foodlover | Hamburg ⚓ | Vans | Chucks | Tattoos
More about @jeybeandme
Nadine
?Halle/Potsdam
?medicin ?
?fitness | food | healthylifestyle
LIVE.IT.LIFT.IT
More about @healthy_nadine
–
https://fivmagazine.de/wp-content/uploads/2017/12/food-trends-2017-paleo-clean-eating-vegan-detox-low-carb-ranking-list.jpg
600
1200
Stephan
/wp-content/uploads/2023/08/fiv-magazine-logo-news-influencer-fashion-interior-travel-real-esates.svg
Stephan
2017-12-21 18:46:18
2021-07-18 13:33:06
5 leckere Ernährungstrends: Paleo, Clean Eating, Vegan, Detox & Low Carb